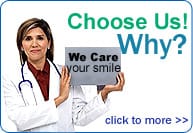 Why Choose Immediate All-on-4 Dental Implant Treatment Abroad in Delhi India?
Dr. Goswami's —  All-on-4 Dental Implant Clinic in India, has a team of top well experienced best dental Implant rehabilitation and reconstruction Dentist in India.
We do Dental makeover, smile designing, Cosmetic dentistry keeping in mind full dental rehabilitation and reconstruction of all missing teeth spaces with help of all-on-4 immediate loading – immediate function dental implant treatment procedures.
We at our all-on-four dental clinic in India, offers best price, low cost, cheapest, inexpensive All-on-4 Dental Implant treatment procedures at New Delhi in India.
A True savings of almost 70 % to 80 % in cost of normal to complex procedures as compared to cost of all-on-4 dental implant treatment price in Bangkok – Thailand, Budapest – Hungry, America, Europe, Canada, Australia and other parts of the world.
Practice – We are practicing at the same place since last 30 yrs, Same Dentist, Same Team, Same place……
Dentist Team – We husband & wife work together at our clinic with a team approach – we are well certified Dentist to do all major Dental Procedures…
Technology — we have all the latest machines and equipment's at our clinic and always procure new materials to provide you world class high treatment standards….

Widest range of Dental Implants

– We have the widest Dental implant range with us in India….. We have Conventional Dental Implant systems, Immediate loading implant systems, Keyhole Implants, Basal Implants, pterygoid Implants, Zygomatic Dental Implants with us. Thus we are able to treat a lot many cases of different bone conditions.

Proper Treatment Planning

– we don't work on short cut procedures while planning your treatment. We will advise complete diagnostic tests (x-rays, digital photos if required etc) at the time of your consultation when the treatment is indicated. There is no substitute for having all the diagnostic information. A lack of information can lead to improper treatment.

Sterilization

– we maintain strict sterilisation protocol so that their will not be any chance of infection or secondary infection after the procedures….

Neat

and

tidy atmosphere

with

elegant furnishings, state of the art equipment

and

All dental facilities under one roof, including a comprehensive laboratory and X-Ray setup

, so that patient does not have to run around to different clinics.

Time Saving

–you will be greeted and seen on time. As you are aware that dental procedures are time consuming and the waiting periods use to be long in general dental clinics. We see everyone on appointment basis so no long waiting periods at our East Delhi Dental Center.
Personal attention – you will be seen by the same dentist every time (we don't deliver your care in an assembly line fashion). Same dentist will know what was done in your last visit and what has to be done now. We take enormous pride in our relationship that we build with our patients and their families.
Emphasis on early detection of dental problem, which in certain cases can prevent expensive and extensive treatment procedures.

Counselling and guidance

rather than merely providing treatment. Warm, courteous and helpful staff trained to provide better service.
Stable Dental Practice –you will be receiving dental care in a stable dental practice – same dentist – same location – from last 30 years…………..
Personalized reminders are sent to the patients either by phone or through email.

Flexible Appointments

– The appointment time is flexible and we work all 7 days a week — from 9 am to 1 pm in the morning times & 5 pm to 8 pm in the evening time….. Sundays we work from 9 am to 1 pm and we will give you your preferred time slot as per your preference.

Location

-The most favourable and positive thing about our dental clinic, is that we are on a main road and is easily visible and accessible. Our implant clinic is centrally located in Delhi, close to New Delhi railway station and ISBT ( Inter state bus terminal ) as well. The main shopping areas as C.P., Karol Bagh, Chandani Chowk, are very close by.
Connectivity –

DELHI METRO – The clinic is very much accessible from metro train as on both sides of the clinic.

Krishna Nagar metro station – on

Pink Line

– This is the nearest metro station to our clinic just 300 mts. away.
Preet Vihar metro station- on

Blue line

metro line – 1 km from our clinic
Welcome metro station— on

Red line

– that too hardly 1 km of distance.
Direct from airport –If you are planning to come from New Delhi airport terminal T-3. You have to come to Rajiv chowk metro station then get on Blue line and have to get down at Preet Vihar metro station and can get a taxi from there – it will take 3 to 5 minutes to reach our center as we are only ½ a K.M. from there.

Delhi Bus service – The Radhey Puri bus stand is just in front of the clinic.

You can reach this clinic via metro and get down at any of the stations and can also come by bus.

For persons coming to Delhi for the first time, we assist you for :

budget 

hotel accommodation

 in New Delhi.

Taxi service

.

Airport Pick & Drop

arrangements.

Sightseeing

 in Delhi.

Heritage tours

 of Delhi.

Shopping

 in New Delhi.

Currency Exchange

.

Things to do

 in New Delhi – India,
going to 

places of interest

 in New Delhi,

Tours

for Agra and Jaipur between treatment time.

 
Dr. Goswami's —  Delhi Dental Implant Clinic in India with best top team of Implant Dentist in Delhi, offers best price affordable budget inexpensive low cost of high quality Full Mouth All-on-6 Dental Implant treatment procedures  – A True savings of almost 70 % to 80 % in cost in normal to complex procedures as compared to cost of dental implant treatment price in Bangkok Thailand Budapest Hungry America Europe Canada Australia and other parts of the world.
Different Implants We Use